PhotoVoltaic energy (PV)
Sebastiaan & Wouter
Inhoud:
Wat is Photovoltaic Energy?
Voor en nadelen PV
Soorten zonnecollectoren
• Eerste generatie zonnecellen
• Tweede generatie zonnecellen
• Derde generatie zonnecellen
Bouw en Werking
Levensduur/Opbrengst
Toepassingen
Wat is Photovoltaic Energy?
Een fotovoltaïsche installatie, afgekort PV installatie (van het Engelse PhotoVoltaic) zet zonne-energie om in gelijkstroom. Dit gebeurt in de zonnemodules.
De gelijkstroom (DC) wordt omgezet in wisselstroom (AC) op een spanning van 230V in de invertor.
Het gecreëerde elektrische vermogen wordt afgestaan aan het huishoudelijke net of aan het publieke elektriciteitsnet bij onvoldoende momenteel huishoudelijk verbruik.
Is de geproduceerde elektriciteit groter dan uw verbruik dan wordt u leverancier van elektriciteit aan het distributienet. Een terugdraaiende elektriciteitsmeter zorgt ervoor dat u achteraf gratis de op het net geplaatste energie kan opnemen.
Voor en nadelen PV
 Reductie van het energieverbruik voor verwarming en huishoudelijk energiegebruik.
 Een zonnepaneel (type multikristallijn) van 1 m2 levert in Nederland ca. 100-120 kWh per
jaar op (uiteraard is dat afhankelijk van de positie ten opzichte van de zon). Het gemiddeld
jaarlijks huishoudelijk elektriciteitsgebruik bedraagt ca 3300 kWh per gezin. De opbrengst
zou dus 3% bedragen.
 Verbetering van de energieprestatie EPC.
 Verlaging factor 0,1-0,3. PV is een goede mogelijkheid om aan de energieprestatie-eis te
voldoen
 Een vrijere keuze voor andere energiesystemen om aan de energieprestatie-eis van EPC
< 1,0 uit het Bouwbesluit te voldoen.
 Een kenmerkende architectuur: door de plaatsing van PV op daken, gevels of als losse
elementen kan men zich onderscheiden in vorm en kwaliteit
Als men het initiatief neemt om PV toe te passen dan gelden de volgende aandachtspunten:
Aandachtspunten PV:
 Beschaduwing
PV-cellen niet toepassen indien bomen of hoge gebouwen voor schaduw zorgen. (zie
stedenbouwkundig plan). In tegenstelling tot zonneboilers heeft een PV-cel rechtstreeks
zonlicht nodig. Zelfs een geringe of gedeeltelijke beschaduwing van een zonnecel maakt
de werking ongedaan.
 Prijs - investering en onderhoud
Een gemiddeld PV-paneel kost momenteel ca € 6,- per pW (piekWatt) geïnstalleerd
vermogen. Dat komt neer op ca. € 600,- per m2 oppervlak. De opbrengst is dan ca. 100-
120 kWh per jaar. Dat levert een opbrengst van ca. € 20,-. per jaar door besparing op het
elektriciteitsgebruik. De terugverdientijd is daardoor meer dan 20 jaar.
Alleen, indien bespaard wordt op andere voorzieningen dan kan het aantrekkelijker
worden. Echter besparingen op verwarming (bijvoorbeeld door elektrische verwarming
i.p.v. een centrale verwarming) is alleen mogelijk bij een grote oppervlakte aan
zonnecellen (> 30 m2). De totale zonnestroom-installatie kost dan ca. € 20.000,- voor de
panelen. De besparingen bedragen ca. € 5000,- op de installatie voor verwarming omdat
men een eenvoudiger verwarmingssysteem kan toepassen. (elektrische verwarming).
Door PV-panelen toe te passen die bijvoorbeeld als dakbedekking dienen zouden
eventueel extra kosten kunnen worden bespaard voor dakafwerking. Dergelijke panelen
zijn nog in ontwikkeling.
De subsidies (EPR) zijn voor een groot deel komen te vervallen
 Onderhoud
PV-cellen behoeven weinig onderhoud. Controle op vervuiling is noodzakelijk, maar bij een
goede uitvoering behoeft het zonnepaneel niet schoongemaakt te worden.
 Subsidie (EPR) is komen te vervallen subsidies
De lopende regeling voor energiepremies voor apparaten en voorzieningen is ingetrokken
op 16 oktober 2003. Voor nieuwe projecten is beperkt subsidie mogelijk. Voor de EPR gaat
gelden, dat alleen grootschalige projecten voor subsidie in aanmerking komen. De
minimale omvang moet nog worden vastgesteld (anno oktoer 2004). Voor meer informatie
zie VROM: www.vrom.nl
 Eisen aan de woning
Oriëntatie: Bouwen met PV-panelen betekent een oriëntatie min of meer op het zuiden en
een optimale hellingshoek tussen de 15 en 60 graden. Dit stelt eisen aan het ontwerp van
het gebouw.
Ruimtebeslag: Voor de collector en de omvormers moet de benodigde opstelruimte
worden gereserveerd.
Detaillering: Er worden specifieke eisen gesteld aan de montage en detaillering van PVpanelen.
Bron: SBR, Rotterdam
Toelichting: SBR brengt partijen in de bouw en vastgoedwereld bij elkaar voor het creëren, overdragen én implementeren van bouwkennis. Zo zorgen wij er voor dat ondernemingen in de bouw en vastgoed hun doelen bereiken: achter veel doelen schuilen immers kennisvragen.
Link organisatie: www.bort.nl
Link artikel:
http://www.bort.nl/download/Informatieblad_PV_Panelen.pdf
Soorten zonnecollectoren:
Er zijn 3 generaties zonnecollectoren, te weten:
Eerste generatie zonnecellen:
De eerste generatie zonnecellen zijn de silicium kristallijn zonnecellen. Deze zonnecellen hebben nog steeds het grootste marktaandeel. Deze eerste generatie zonnecellen heeft tot nu toe de hoogste efficiëntie, maar de kosten van het materiaalgebruik en het productieproces zijn hoger dan bij de tweede generatie. Door de hogere productiekosten zal het marktaandeel van de eerste generatie vrijwel zeker dalen. Bij de eerste generatie zonnecellen zie je veel R&D ontwikkelingen in het efficiënter maken van het productieproces.
In april van dit jaar heeft het Amerikaanse bedrijf SANYO bekend gemaakt dat zij een nieuwe HIT Power serie zonnepanelen op de markt brengt. HIT staat voor Heterojunction with Intrinsic Thin-layer. SANYO produceert hybride silicium zonnepanelen met silicium kristallijn cellen omgeven door dunne-film amorf silicium cellen. Deze zonnepanelen hebben met name onder hoge temperaturen een betere efficiëntie dan de standaard kristallijn zonnecellen, aldus SANYO.
Tweede generatie zonnecellen:
De tweede generatie zijn de dunne-film zonnecellen. Bekende materialen waar de dunne-film cellen van gemaakt worden zijn cadmium telluride (CdTe), koper indium gallium selenide (CIGS), amorf silicium en micromorf silicium. Tweede generatie zonnecellen hebben meestal een lagere efficiëntie dan de eerste generatie, maar zijn ook goedkoper te produceren.
De grootste Amerikaanse producent van CdTe zonnecellen is First Solar. First Solar heeft in februari dit jaar aangekondigd dat ze de productiekosten heeft gereduceerd tot onder de één dollar per watt; $98ct/watt. In 2004 waren de productiekosten nog $3/watt. Begin 2009 heeft het elektriciteitsbedrijf Tri-State aangekondigd dat zij een 25-jarig contract heeft getekend met First Solar voor de bouw van een 30-megawatt fotovoltaïsche zonne-energiecentrale in Noordoost New Mexico. Dat zijn 500.000 zonnepanelen.
De februari editie van het Green Innovation Report van GreenTech laat zien welke bedrijven onderzoek doen naar CIGS zonnecellen en hoe groot hun productie is. In totaal is er 2,3 miljard durfkapitaal in CIGS geïnverteerd. In het eerste kwartaal van dit jaar zijn de investeringen met 40% gedaald ten opzichten van vorig jaar.
Bedrijf VC Hoofdkantoor Productieproces Substraat Capaciteit
investering eind 2009
Top-5 durfkapitaal investeringen in CIGS dunne film zonnecellen

Solyndra $ 600+ milj Fremont, Californië Vacuüm depositie, co-evaporatie Glazen buizen 70 MW
Nanosolar $ 500 milj San Jose, Californië Hoge snelheid rol-tot-rol Metaal folie 215 MW
Miasolé $ 300 milj Santa Clara, Californië Vacuüm sproeiing rol-tot-rol Roestvrij staal 40 MW
SoloPower $ 235 milj San Jose, Californië Rol-tot-rol electro depositie Folie 20 MW
SulfurCell $ 165+ milj Berlijn (Duitsland) Sproeiing Glas 28 MW
Grote investeringen vinden in Californië plaats. In het Green Innovation Report vind je een totaal overzicht van alle bedrijven die (op het punt staan om) CI(G)S zonnecellen te produceren.
Derde generatie zonnecellen:
Met de derde generatie zonnecellen moeten de productiekosten laag blijven en de efficiëntie toenemen. Technologieën die behoren tot deze generatie zijn polymeerzonnecellen, nano-antennes, quantum-dots en dye-sensitized zonnecellen.
Bouw en Werking:
1. De fotonen in zonlicht raken het zonnepaneel en door semigeleidend materialen, zoals silicium geabsorbeerd.
2. De negatief geladen elektronen worden geklopt los van hun atomen, waardoor deze door het materiaal vloeien en elektriciteit opwekken. Door de samenstelling van zonnecellen, kunnen de elektronen zich slechts in één richting te bewegen. De positieve lading die ook worden gecreëerd (als bellen) bewegen zich in tegengestelde richting.
3. Een serie van deze zonnecellen zet zonne-energie om in bruikbare gelijkstroom. Deze kan direct worden gebruiks, opgeslagen of terug worden doorgegeven op het energie-netwerk.
De cel bestaat uit meerdere lagen. De bovenste laag is van glas of plastic. (nr 1) Dit is ter bescherming. Daaronder zit de geleidende laag waar de elektronen zich in kunnen voortbewegen (nr2). Eronder zit een laag grafiet (nr3). Helemaal in het midden van de cel zit een elektrolytoplossing(nr4). deze kan gemaakt worden van allerlei zoutoplossingen. Op de onderste doorzichtige geleidende laag zitten gesinterde willekeurig gestapelde titaandioxide moleculen(nr5). Aan de titaandioxide moleculen zitten kleurstof moleculen vast(nr6).
Kosten/opbrengst:
Hieronder zijn wat tabellen te zien die de kosten en de opbrengst weergeven.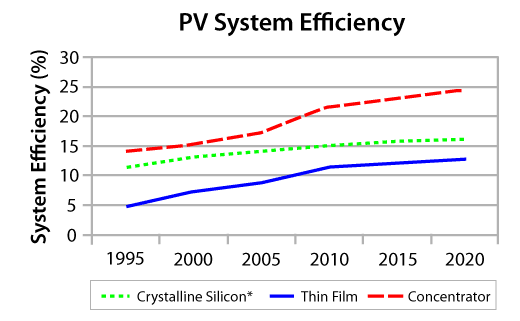 De verschillende generaties zonnepanelen, een procentuele weergave van de energie die wordt omgezet vanuit de zonnestralen.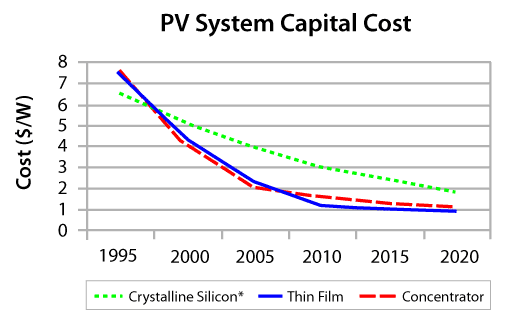 Opbrengst, in dollars per watt
Hieronder is te zien hoe de ontwikkeling van de verschillende voltagecellen is verlopen, de verticale as geeft de effiëntie weer:
Wat hier echter onbreekt zijn de kosten, waardoor de kosten per bijv. 1 watt niet te zien zijn
Toepassingen:
Woningen
Vliegtuig
Auto
Boot
Fiets
"Verf"
Dakbedekking
Stof
Zaklamp
Woningen:
Waaruit bestaat een PV-installatie?
PV-panelen, omvormer, bestaande zekeringenkast, groene stroommeter, kWh-teller.
Met alleen de zonnepanelen ben je er dus nog niet, hieronder is een voorbeeld gegeven vaneen investering voor een woonhuis met zonnepanelen:
Bron: IZEN energy systems
Omschrijving: ZEN ontwikkelt, produceert en installeert: Zonlichtsystemen voor de productie van warmte en elektriciteit, Warmtepompen voor ruimteverwarming, Middelgrote windmolens voor de productie van elektriciteit
Website organisatie:
http://www.izen.be
Website artikel:
http://www.izen.be/producten/PV/PV-installatie
Vliegtuig
Alle vier de toestellen zijn gebaseerd op hetzelfde ontwerp. Elke nieuwe versie was echter groter en kon daarom langer in de lucht blijven en meer lading meenemen. Ook hadden Centurion en Helios een systeem aan boord om 's nachts te kunnen vliegen, respectievelijk door middel van accu's en een brandstofcelsysteem.
Auto
De World Solar Challenge is een tweejaarlijkse wedstrijd voor zonnewagens, auto's die rijden op zonne-energie. De wedstrijd gaat dwars door Australië over een afstand van 3021 kilometer. De start is in de noordelijke stad Darwin en de wedstrijd gaat via Alice Springs naar de zuidelijke stad Adelaide. De eerste World Solar Challenge vond plaats in 1987.
Op 25 oktober 2009 gaat de tiende versie van de race van start.
In 2001, 2003, 2005 en 2007 werd de race gewonnen door de Nuna, de zonnewagen van de TU Delft.
Boot
Studenten van Delft Waterbike Technology, een dispuut van William Froude, de studievereniging van Maritieme Techniek, bouwden in een maand hun eerste door zonne-energie aangedreven boot. Het komende jaar gaan ze de boot verder verbeteren, zodat ze volgende zomer met de snelste zonneboot ooit aan de start van de eerste Frisian Nuon Solar Challenge verschijnen. Deze wedstrijd voor boten op zonne-energie leidt langs de Friese elfsteden en wordt gehouden van 26 juni tot 1 juli 2006.
De vorm van de romp is gelijk aan die van de nuna zonne auto die ook is ontwikkeld aan de TU delft.
Fiets
Slecht nieuws voor Spartamet, het systeem dat fietsers een handje helpt om een heuvel op te komen, is hopeloos ouderwets. In Londen is namelijk een fiets ontworpen met een elektrisch motortje dat wordt opgeladen door zonne-energie. De fel gele 'Cycle Sol' fietst hetzelfde als een normale fiets. Het enige verschil is dat tijdens het fietsen een batterij wordt opgeladen door zonlicht. Deze batterij drijft een motortje aan dat bevestigd is aan het achterwiel. Dit motortje helpt het fietsen van een lange afstand tot een makkie te maken.
"Verf"
De façades van honderden dure kantoorgebouwen bestaan uit staal. Na verloop van tijd begint de coating daarvan te verweren. Rust façades nu eens uit met een verf waarin zonnecellen met een laag rendement van 5 procent zitten. Dat levert pakweg 4500 Gigawatt op, oftewel het vermogen van vijftig windparken. Bij de Universiteit van Swansea (Wales) doet dr. Dave Worsley er al jaren onderzoek naar. De verf benut vooral de lagere delen van het spectrum. Daarmee is het uitstekend geschikt voor niet alleen de UK maar ook Nederland. Samen met Corus Colour, het Brits-Nederlandse concern, streeft hij naar commercialisatie van het concept. "Als dit slaagt, hebben we een high-tech product dat de toekomst van de Europese staalindustrie langdurig veilig stelt", zegt hij.
Dakbedekking
DERBISOLAR is het resultaat van een exclusieve combinatie tussen een zeer duurzaam waterdichtingsmembraan DERBIBRITE NT en amorfe fotovoltaïsche zonnecellen. DERBIBRITE NT is een bitumineus waterdichtingsmembraan die een perfecte waterdichting en lange levensduur garandeert. Zijn exclusieve acrylcoating garandeert een optimale aanhechting voor meer dan 20 jaar tussen het membraan en de fotovoltaïsche modues.
DERBISOLAR onderscheidt zich van traditionele installaties door zijn laag gewicht (3.5 kg/m2) en zijn perfecte integratie in zijn omgeving.
Stof
Elke draad bevat een roestvrij stalen draad, de dikte van een menselijk haar, bedekt met verschillende lagen van organisch fotovoltaïsch materiaal.
De draad is verbonden met een ander dunner draad dat functioneert als een secundaire elektrode. Zodra de draden zijn bedekt met een beschermende, transparante polymeer, ze zijn klaar om te worden geweven in draagbare zonne-kleding - shirts, hoodies etc.
Zaklamp
sunLight represents a unique type of product. It embodies all aspects, such as generation, storage and consumption of electrical energy in one unit. sunLight reduces rubbish. It is designed for a long lifecycle without the need to remove or change any elements. In the case of malfunction, parts can be replaced easily, decreasing costs for service. All that sunLight needs to work is solar energy - you simply unfold it so that solar cell film is exposed to the sun and the enegry will recharge the batteries. Received power can be used in different ways, as a flashlight or for loading up connected gadgets (mobile phones or music players, for example).
sunLight is scaleable. The standard configuration embeds 6 modules, each of which consists of an LED unit and 2 AAAA rechargeable batteries. Furthermore, one of modules holds a charge controller. For more or less luminance/capacity, the size of solar cell film and with it the number of LED-battery modules can be varied proportionally. A low number of components reduces the production costs; production of different sizes requires just one new tool for the base material. Except for the batteries, all parts could be made of recyclable polymers.
Rechargeable for single or double Ni-MH batteries
1) Solar panel:5.5V/100mA
2) OutPut :5.5V/300mA
3) Selection for recharging to 1,2 or 3pcs batteries
4) Charging time
a)mobile phone
b)Ni-MH battery :2.5 hours 1,2,3pcs battery 12-14 hours (under full sunlight condieinos)
c)Ni-MH battery (1,2,3,AA battery/AA
(1,2,3,AA battery/AAAbattery )4-5 hours (via USB charging cable)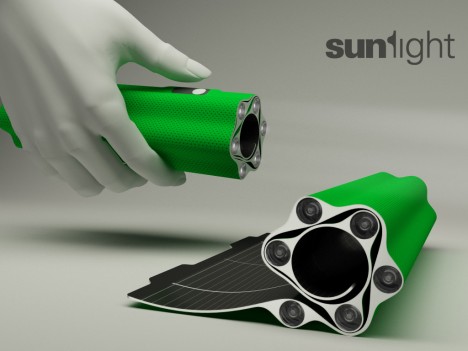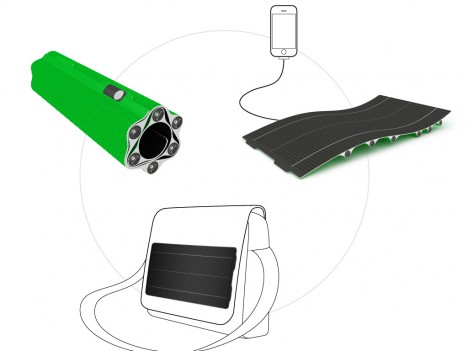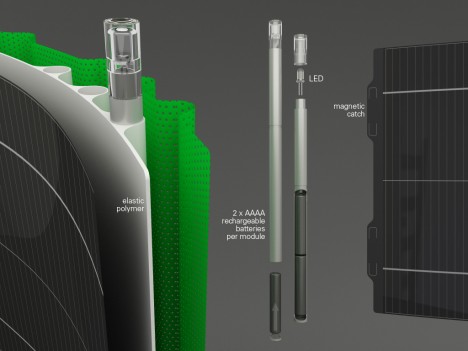 PhotoVoltaic Energy (PV)
Door:Michael Tatang en Iris Janssen
Wat is PhotoVoltaic Energy?
First used in about 1890, the word has two parts: photo, derived from the Greek word for light, and volt, relating to electricity pioneer Alessandro Volta. So photovoltaic technology, the scientific term used to describe solar energy, involves the generation of electricity from light (Photoelectric Effect), as French physicist Edmond Becquerel discovered as early as 1839.
How does it work?
Photo voltaic cells convert solar light photons into electricity. Photovoltaic solar cells fulfill two functions: photogeneration of charge carriers (electrons and holes) in a light-absorbing material, and separation of the charge carriers to a conductive contact that will transmit the electricity.
The photovoltaic effect refers to photons of light knocking electrons into a higher state of energy to create electricity.
Commonly known as solar cells, individual PV cells are electricity-producing devices made of semiconductor materials. PV cells come in many sizes and shapes — from smaller than a postage stamp to several inches across.
Recommended
PV systems
A photovoltaic (PV) or solar cell is the basic building block of a PV (or solar electric) system. An individual PV cell is usually quite small, typically producing about 1 or 2 watts of power.
Cells
PV cells are generally made either from crystalline silicon, sliced from ingots or castings or from grown ribbons, or thin film, deposited in thin layers on a low cost backing. The majority of module production (89% in 2003) has so far involved the former, while future plans will also have a strong focus on the latter. Thin film technology based on silicon and other materials is expected to gain a by far larger share of the PV market in the future. This technology offers several advantages such as low material consumption, low weight and a smooth visual appearance.
Modules
To boost the power output of PV cells, we connect them together to form larger units called modules. Modules, in turn, can be connected to form even larger units called arrays, which can be interconnected to produce more power, and so on. In this way, we can build PV systems able to meet almost any electric power need, whether small or large.
Arrays
The size of an array depends on several factors, such as the amount of sunlight available in a particular location and the needs of the consumer. The modules of the array make up the major part of a PV system, which can also include electrical connections, mounting hardware, power-conditioning equipment, and batteries that store solar energy for use when the sun isn't shining.
Inverter
Inverters are used to convert the direct current (DC) power generated by a PV generator into alternating current (AC) which is compatible with the local electricity distribution network. This is essential for grid-connected PV systems. Inverters are offered in a wide range of power classes, from a few hundred Watts through the most frequently used range of several kWp (3-6 kWp) up to central inverters for large scale systems with 100 kWp and above.
Battery
To store the excess energy, for later use.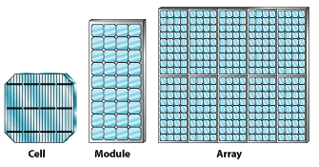 From what material is it made of?
Crystalline silicon
The first type is silicon, which can be used in various forms, including single-crystalline, multicrystalline, and amorphous. Crystalline silicon is still the mainstay of most power modules. Although in some technical parameters not the ideal material for solar cells, it has the benefit of being widely available, well understood and uses the same technology developed for the electronics industry. Efficiencies of more than 20% have been obtained with silicon cells in the laboratory, but production cells are currently averaging 13-17% efficiency. The theoretical limit for crystalline modules approaches 30%.
Thin film
Thin film modules are constructed by depositing extremely thin layers of photosensitive materials on a low cost backing such as glass, stainless steel or plastic. This results in lower production costs compared to the more material intensive crystalline technology. This price advantage is counter balanced at the moment, however, by substantially lower efficiency rates and less experience of the modules' lifetime performance.
Three types of thin film modules are commercially available at the moment. These are manufactured from amorphous silicon (a-Si), copper indium diselenide (CIS, CIGS) and cadmium telluride (CdTe). All of these have active layers in the thickness range of less than a few microns. This approach allows higher automation once a certain production volume is reached, while they all use an integrated approach to the module architecture. This is less labour intensive compared to the assembly of crystalline modules by interconnecting a number of individual cells. At approximately 6% in 2003, the market share of thin film technology is still fairly low, but can be expected to increase in the future.
Amongst these three commercially available thin film technologies, a-Si is the most important in terms of production and installation (4.5% of the total market in 2003). Multicrystalline thin film on glass (CSG) is a promising thin film technology under development, but not yet available on a commercial scale. Microcrystalline technology, in particular the combination of amorphous silicon and microcrystalline silicon (a-Si/μ-Si) is another approach with encouraging results. The efficiency world record for cells with this technology is currently 14.7%, while modules are already commercially available with an efficiency of 10% stabilized. The aim is to increase this level to 12% in 2005. t can be expected to increase in the future. Amongst these three commercially available thin film technologies, a-Si is the most important in terms of production and installation (4.5% of the total market in 2003).
Finally, the third type of material is single-crystalline thin film, focusing especially on cells made with gallium arsenide.
Application?
Solar cells produce direct current electricity from light, which can be used to power equipment or to recharge a battery. The first practical application of photovoltaics was to power orbiting satellites and other spacecraft, but today the majority of photovoltaic modules are used for grid connected power generation. In this case an inverter is required to convert the DC to AC. There is a smaller market for off grid power for remote dwellings, roadside emergency telephones, remote sensing, and cathodic protection of pipelines.
Solar cells are commonly used in remote locations where cost-effective access to local power grids are not possible.
Photovoltaics can be used in a wide range of products, from small consumer items to large commercial solar electric systems.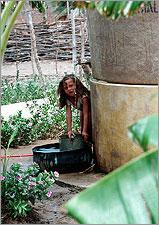 Thanks to a PV-powered water pumping system installed in 1992, this young girl in Cardeiros, Brazil, can fill her jug from the school's water tank. Additional PV systems with batteries power the school's lights, refrigerator, and television.
Space station
The Advantages of Solar Power
The fuel is free
No moving parts to wear out or break down
Minimal maintenance required to keep the system running
Modular systems can be quickly installed anywhere
Produces no noise, harmful emissions or polluting gases
Energy Payback Times for Photovoltaic Technologies
Energy payback time (EPBT) is the length of deployment required for a photovoltaic system to generate an amount of energy equal to the total energy that went into its production. Roof-mounted photovoltaic systems have impressively low energy payback times, as documented by recent (year 2004) engineering studies. The value of EPBT is dependent on three factors: (i) the conversion efficiency of the photovoltaic system; (ii) the amount of illumination (insolation) that the system receives (about 1700 kWh/m2/yr average for southern Europe and about 1800 kWh/m2/yr average for the United States); and (iii) the manufacturing technology that was used to make the photovoltaic (solar) cells.
With respect to the third factor, i.e., manufacturing technology, there are three generic approaches for manufacturing commercial solar cells. The most common approach is to process discrete cells on wafers sawed from silicon ingots. Ingots can be either single-crystal or multicrystalline. However, in either case, the growing and sawing of ingots is a highly energy intensive process. A more recent approach which saves energy is to process discrete cells on silicon wafers cut from multicrystalline ribbons. The third approach involves the deposition of thin layers of non-crystalline-silicon materials on inexpensive substrates. It is the least energy intensive of the three generic manufacturing approaches for commercial photovoltaics. This last group of technologies includes amorphous silicon cells deposited on stainless-steel ribbon, cadmium telluride (CdTe) cells deposited on glass, and copper indium gallium diselenide (CIGS) alloy cells deposited on either glass or stainless steel substrates.
Recent research has established battery-free, grid-tied EPBT system values for several (year 2004-early 2005) photovoltaic module technologies (see Table 1). In Table 1, the values in the last column are the reciprocals of the respective values in the third column. It is seen that, even for the most energy intensive of these four common photovoltaic technologies, the energy required for producing the system does not exceed 10% of the total energy generated by the system during its anticipated operational lifetime. Future research will extend the table to include amorphous silicon and CIGS alloys.
Table 1. System Energy Payback Times for Several Different Photovoltaic Module Technologies.
(1700 kWh/m2/yr insolation and 75% performance ratio for the system compared to the module.)
Cell Technology Energy Payback Time (EPBT)1 (yr) Energy Used to Produce System Compared to Total Generated
Energy 2 (%) Total Energy Generated by System Divided by Amount of Energy Used to Produce System2
Single-crystal silicon 2.7 10.0 10
Non-ribbon multicrystalline silicon 2.2 8.1 12
Ribbon multicrystalline silicon 1.7 6.3 16
Cadmium telluride 1.0 3.7 27
1. V. Fthenakis and E. Alsema, "Photovoltaics energy payback times, greenhouse gas emissions and external costs: 2004-early 2005 status," Progress in Photovoltaics, vol. 14, no. 3, pp. 275-280, 2006.

2. Assumes 30-year period of performance and 80% maximum rated power at end of lifetime.
Development
Photovoltaic production has been doubling every 2 years, increasing by an average of 48 percent each year since 2002, making it the world's fastest-growing energy technology. At the end of 2008, the cumulative global PV installations reached 15,200 megawatts, a 94% annual increase.
The most important issue with solar panels is capital cost (installation and materials). Newer alternatives to standard crystalline silicon modules including casting wafers instead of sawing, thin film (CdTe CIGS, amorphous Si, microcrystalline Si), concentrator modules, 'Sliver' cells, and continuous printing processes. Due to economies of scale solar panels get less costly as people use and buy more — as manufacturers increase production to meet demand, the cost and price is expected to drop in the years to come. By early 2006, the average cost per installed watt for a residential sized system was about USD 7.50 to USD 9.50, including panels, inverters, mounts, and electrical items.
In 2006 investors began offering free solar panel installation in return for a 25 year contract, or Power Purchase Agreement, to purchase electricity at a fixed price, normally set at or below current electric rates. It is expected that by 2009 over 90% of commercial photovoltaics installed in the United States will be installed using a power purchase agreement. An innovative financing arrangement is being tested in Berkeley, California, which adds an amount to the property assessment to allow the city to pay for the installed panels up front, which the homeowner pays for over a 20 year period at a rate equal to the annual electric bill savings, thus allowing free installation for the homeowner at no cost to the city.
The current market leader in solar panel efficiency (measured by energy conversion ratio) is SunPower, a San Jose based company. Sunpower's cells have a conversion ratio of 23.4%, well above the market average of 12-18%. However, advances past this efficiency mark are being pursued in academia and R&D labs with efficiencies of 42% achieved at the University of Delaware in conjunction with DuPont.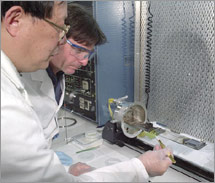 A research team led the way with a 16.5%-efficient cadmium telluride (CdTe) PV cell and device structure that surpassed the former world record by 0.7%
Review door: Anne Backhuijs